Differentiating in digital fitness with music and technology
How CITYROW's workout music strategy and technology partnerships have evolved to bolster a growing product line and successful omnichannel fitness solution.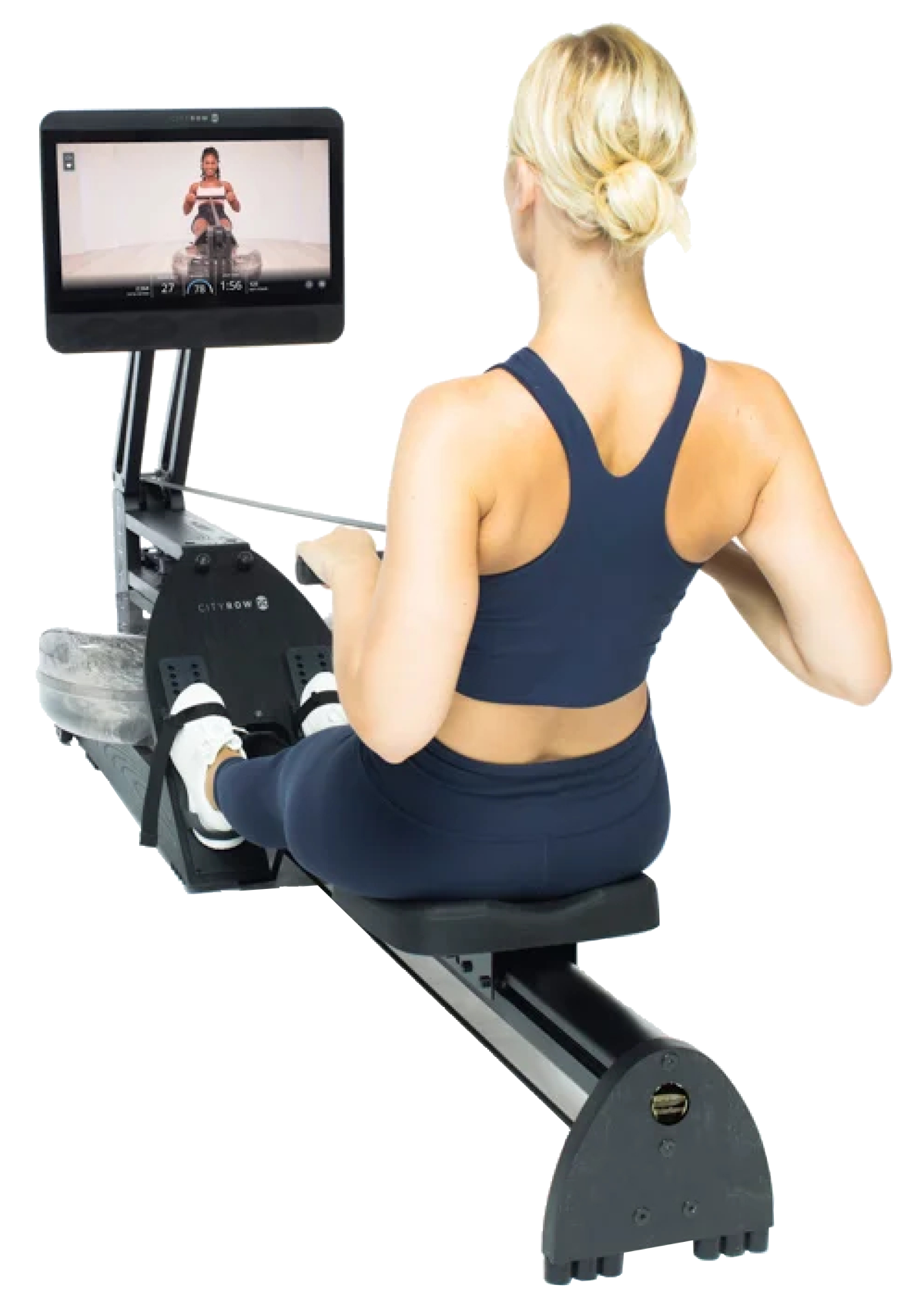 About CITYROW
CITYROW is on a mission to champion sustainable, holistic fitness for any body of any fitness level, anywhere at any time. Signature workouts rotate between intervals on the rowing machine and intervals on the mat to deliver a full-body workout incorporating cardio, strength, endurance and mobility, in as little as 20 minutes.
The team at CITYROW takes an uncompromising approach to how they program workouts, ensuring that they are safe, effective, and fun. They put a strong emphasis on the experience and the connection, and music is a big piece of that. Their goal is that when you finish a CITYROW workout, you can't wait to do it again.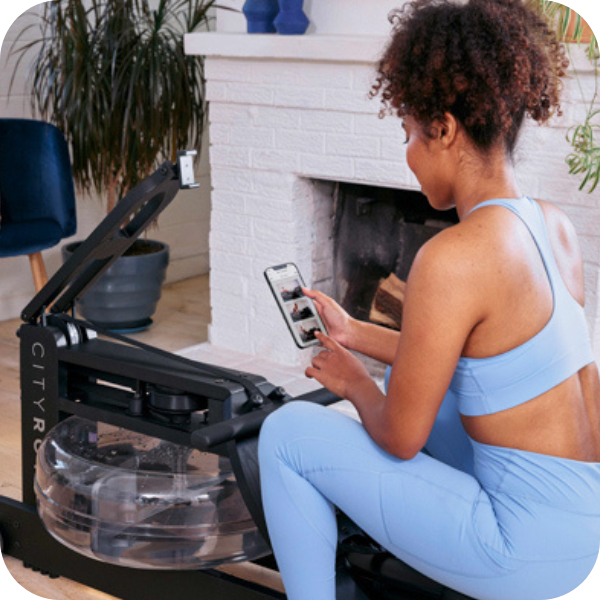 The Challenge
Music Licensing is Complicated
"Music is one of our biggest challenges because it is core to the fitness experience, especially in experiential fitness where half the battle is getting people to show up again and again," explains Ashley Davis Keith, COO, Co-Founder, and Chief Brand Officer at CITYROW.

Keith recognized early on that they did not have the infrastructure to handle music licensing or integration to get music into their digital app. They were looking for a solution to allow them to do what they do best—create the experience, create the workouts, create the community, and connect with their clients—without having to worry about music streaming and compliance.
"We were somewhat familiar with the complicated nature of music licensing, and I would by no means claim to be any sort of expert. I knew enough to know that this was not something that we would want to take on, on our own. I knew we had to have a partner, we had to have a solution that we are not self-managing."
"What you're able to do in person, in studios, is very different from the digital environment. How to stream music, how to deal with licensing issues—these were the most challenging issues when we moved into the digital space. One of our earliest hurdles was figuring out how we were going to address that."
Ashley Davis Keith
COO, Co-Founder and Chief Brand Officer at CITYROW
The Solution
A Trusted Partner
For CITYROW, having a turnkey solution was paramount. And they were eager to partner with a company that they could grow with, a partner that they felt would continue to innovate and evolve as they did. They wanted to be able to harness the power of music but without having to build it themselves. They found Feed.fm before they launched their Beta and have been working with the FMG team ever since.

"The way that we use Feed.fm has evolved over time," says Lauren Burbank, Senior Manager of Production at CITYROW. "At first it was just one station with every class. Since then we've started using instructor-curated music, themed stations, and class-specific stations. The Feed.fm-curated stations are a real time-saver for our team. It's wonderful to have them updated all the time. In a startup environment you have to be scrappy and really smart about where you put your time."
While the FMG curation team focuses on keeping music current, upbeat, and matching the feeling and movement of CITYROW classes, the product team is working behind the scenes to bring new licensing solutions and technology integrations to market.

"One of the features that people love the most is the ability to adjust the music volume and instructor volume. There's a lot of variety in what people want; some people really want to hear the music, some people want it to be in the background. It's a very meaningful feature for people and it gives them an element of control," offers Keith.

CITYROW's intentional approach and uncompromising commitment to programming is apparent in their music strategy. Together with Feed.fm's Customer Experience and Curation teams, they are finding ways to create unique musical experiences for people.
Keith continues, "Themed classes and custom stations are a couple of ways we differentiate content. Add to that the monthly Feed.fm optimizations which include new tracks as well as analyses of song and station performance, and ongoing input from CITYROW instructors, and you end up with a fresh sound that is relevant and effective."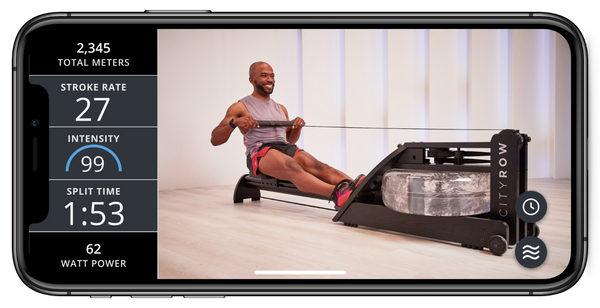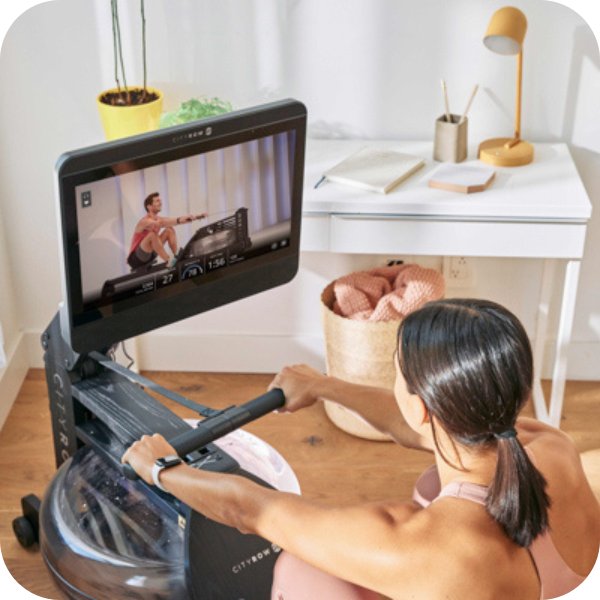 THE RESULTS
A trusted partner and a feature-rich music offering.
Time Saver
Feed.fm curated stations proved to be huge time-savers for the CITYROW team. With consistent updating, the CITYROW team had a turnkey solution that allowed them to focus their efforts where needed.
Unique Experiences
Together with Feed.fm's Customer Experience and Curation teams, CITYROW found ways to create customized musical experiences for people.
Cooperation is the key to success
If you're looking to launch integrated music, Ashley recommends that you "Find a partner. Music licensing and building the tech around music is incredibly complex. It is also important to have a strong sense of how you want your brand to be represented musically." Understanding and defining your musical brand includes how it shows up (voice and implementation) and what works best with your content. Tune in to your community by setting up mechanisms to solicit customer feedback, and pair app metrics with music analytics, like the ones built into Feed.fm's music API and dashboard, to help inform your ongoing music strategy.
Ashley concludes, "You can have the best musical sensibility in the world, but if you don't have a way to deploy it, and manage it, then you're back at square one. So for us, that was always a powerful motivation for having a turnkey partner like Feed.fm, a partner that we felt would continue to innovate and evolve along with us."
Leveling up tech with the CITYROW Max Rower
CITYROW teamed up with Sweatworks in 2019. CITYROW had successfully launched their digital app which paired the home workout experience with a bluetooth-connected rowing machine now known as the Classic Rower, and they were ready to take it to the next level. They partnered with Sweatworks to create and build the Max Rower, offering a fully integrated at-home digital rowing experience complete with a sweatproof 19-inch tablet and HiFi speakers.
Sweatworks ultimately became their technology partner, working with them on all aspects of tech, including the launch of their live class offering in the fall of 2021. This development aligned with an expanded music strategy offering more personalized workout music options for their growing class schedule. The upgraded hardware, revamped music approach, and redesigned experience were all intentional investments in building a sustainable future for the company and their customers.
"Feed.fm is like having an ear to the ground when it comes to new solutions for music integrations, consistently bringing more options to the table."
Lauren Burbank
Senior Manager of Production
Want to see this happen for your business?
Feed.fm is ready to drive results for you.